Gerber Scientific & Allen Datagraph Plotters & Lasers




Design Mart works with Hyatt's Graphics (www.hyatts.com) to offer plotters and cutters from Gerber and Allen Datagraph as well as lasers from Allen Datagraph. We also offer seminars and tutorials for beginners.

Custom Artwork For Gerber, Flexi, Corel, MonuCad, And More!
Design Mart's studio can match photos and rubbings of any stone for restoration or creating additional monuments for a family's cemetery space.  In most cases our studio can work right on top of your photo for an exact match.  For best results you'll want to shoot the monument straight on.  Photos taken at an angle are distorted, and duplications can't be precise.  Here are some examples of recent work from our studio.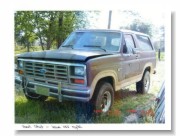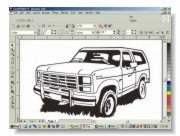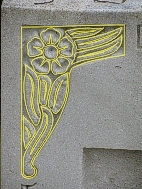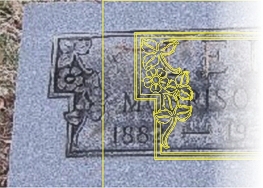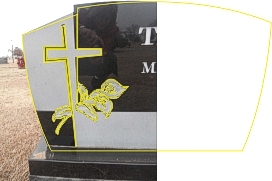 Please give us a call at 800-736-7455 or email your photo to d-mart@designmart.com, and our studio will be glad to reply with an estimate.  It's faster and more affordable than you might think!

All New Impact Etcher - Starting at $13,750!
What is Impact Etching?
Impact Etching is a revolutionary technology, designed for use in the Monument Industry. The image is created by a diamond-tipped needle hitting the stone.  The Etcher's controller changes the strength and frequency of hits to achieve required characteristics of the image. The etching head is driven by a precision German-manufactured 3-D linear drive with a gap sensor that automatically maintains an optimal distance between the needle and stone - allowing processing of uneven surfaces.  The result is an image that is as close as as possible to the original, and has the quality of etching performed by the artist, for a fraction of the cost.
How does it compare to laser?
Impact Etching does not require stone to be ideally black, level or flat.  Since it is similar to hand etching it penetrates stone much deeper than a laser, which burns the surface of the stone.
All Impact Etchers are available with Design Mart monument sales brochures, catalogs and computer images.  Please visit our Books & Brochures page to learn more about these valuable sales tools and matching image files.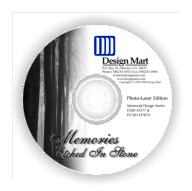 There are three types and sizes of Impact Etchers available:
 GRANITE-CP IMPACT ETCHING MACHINE 15.7 X 23.6
The Granite Impact Etcher from Economical Solutions Corp is a non-laser, easy-to-use and reliable etching machine. Made from German mechanical components, it is the only diamond etching machine in the US market.  It utilizes automatic gap-tracking technology to eliminate focusing and the need to level the stone. This compact, portable unit can be positioned on the stone, and will etch up to a 15.7 x 23.6 inch image area.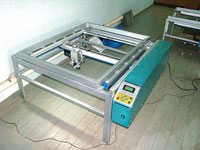 GRANITE-SR IMPACT ETCHING MACHINE 25.2 X 29.9
The Granite Impact Etcher from Economical Solutions Corp is a non-laser, easy-to-use and reliable etching machine. Made from German mechanical components, it is the only diamond etching machine in the US market. It utilizes automatic gap-tracking technology to eliminate focusing and the need to level the stone. This mid-sized, floor unit is capable of etching an image up to 25.2 x 29.9 inches.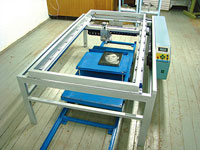 GRANITE-SX IMPACT ETCHING MACHINE 25.2 X 48.8
The Granite Impact Etcher from Economical Solutions Corp is a non-laser, easy-to-use and reliable etching machine. Made from German mechanical components, it is the only diamond etching machine in the US market.  It utilizes automatic gap-tracking technology to eliminate focusing and the need to level the stone. This large, floor unit is capable of etching an image up to 25.2 x 48.8 inches.
You'll find helpful information in our Impact Etcher brochure at http://www.hyatts.com/pdf/SIGNGraniteImpactEtcher.pdf .
Laser Engraving vs. Impact Etching
Laser Engraver
• Can engrave wood, leather, plastic.
• Burns very thin upper layer of the stone.
• Works best on perfectly black stone. Yields substandard results on non-black
• Laser machines are complex and have many subsystems: electronic, mechanical, optical, cooling, and fumes removal.
• Requires stone leveling procedure. Stone has to be perfectly flat and level against the machine's plane.
• Requires manual focusing and/or gap setting to ensure proper distance between the laser tube and stone.
• Has to be used in lab-like environment with stable temperature. Changes to temperature can cause gas leaks from laser tube and can significantly reduce tube life.
• Output of laser tubes changes with ambient temperature and depends on proper cooling.
• High price for high-end models. Questionable reliability for low-end models.
• Most laser machines leave image preparation to the user. This causes frustration and substandard results.
GraniteTM Impact Etching Machine
• Can only engrave stone, glass, metal or other hard materials - designed specifically for monument builders.
• Physically hits stone with diamond "needle", creating images that are as close as it gets to manual etching.
• Can be used on any stone of any color, regardless of imperfections the stone may have.
• Has only 2 subsystems: electronic and mechanical, and has fewer components for higher reliability.
• Stone does not have to be perfectly flat or level. Machine has the tracking head that follows the surface of the stone; set-up time is minimal.
• Has automatic gap setting mechanism.
• Designed for your workshop and its environment.
• Price that every monument shop can afford. Pays for itself in a matter of months. Assembled from German-made linear drives. Rugged industrial-grade
welded frame.
• Comes with Image Editing Service that will prepare images for etching. Editing done manually by artist will ensure perfect quality that your clients will like.
What is the largest size stone that can be etched?
There is no relation between the size of the stone and type of the machine you use. You can put the portable Granite-CP™ model over any monument, regardless of its size. Stationary models Granite-SR™ and Granite-SX™ can work on stones as large as the distance between the machine's legs on the longest side.
Granite-CP Impact Etcher
• 15.7" x 23.6" Image Area
• Portable and can be positioned directly over the stone.
Granite-SR Impact Etcher
• 25.2" x 29.9" Image Area • Mid-range floor model
Granite-SX Impact Etcher
• 25.2" x 48.8" Image Area • Large floor model

Laser Boot Camp
Design Mart and Hyatt's Graphics hosted the annual Boot Camp in March.  These two one-day sessions provided opportunities for attendees to learn more about lasers and how they can be used for monument applications.  (Click here to watch the Allen Datagraph laser in use.)
Laser Boot Camp was held in Elberton, Georgia, at the offices of Design Mart.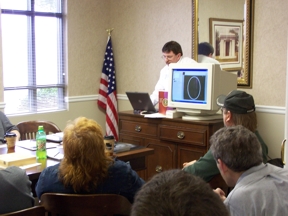 Ray Marsh, of Allen Datagraph, taught an informative session on the features found in the image editing and prep application that ships with the laser.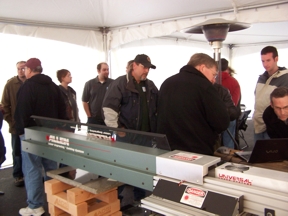 Mike Elliott, of Allen Datagraph, demonstrated the operation of the laser as participants got a close-up look at the laser in action and asked questions.
Boot Camp Course Syllabus/Schedule
10:00 Welcome & Introductions
10:00 – 10:15 Introduction to Etching
What is etching?
When did it start?
  The beginning:
  Electric hand-etching tool demonstration
  Hand etching display
Laser etching:
 Early laser etching:
  Scanning hand-drawn sketches.  The good, the bad, the ugly.
  Scanning hand-drawn scratchboard art.
  Applying color by hand.
 Laser etching from digital photos
  Realism
  Time and $ savings
  Applying color by laser (sublimated ink)
10:15 – 10:30 Selling Etchings - What your sales team needs to know.
How to address durability/longevity issues with clients
 Using awards and community projects to build confidence.  See examples from Memories Etched in Stone (public safety, veterans, and historical markers)
 Guarantee?
 File preservation and future refinishing
 Sandblast of essential lettering with etched images
 Etched portrait tiles added to traditional monuments
Assisting clients with selection
 Your clients can't buy it if they can't see it.
 Displaying etchings through your Online Catalog (building awareness and consideration)
 Providing etching ideas in your brochures (building awareness and consideration)
 Using a larger image online or catalog to finalize the image and lettering treatment     
 What is an ideal photograph – composition.  Combine photos for special effects.
 Lettering:
  Don't just default to Modified Roman - select new fonts.
  Use your laser to add reflections, shadowing, and highlights.
10:30 – 11:00 Photo Input & Editing
Digital photos and scans
 Resolution
 Mode: 48 bit CMYK, 24 bit RGB, 8 bit Grayscale, and 1 bit Black & White
 Basic photo editing & retouching
 Brightness & contrast
 1 bit black & white
11:00 – 11:15 Break & Move Outside to Laser Display
11:15 – 12:00 Laser Demonstration
Laser Care & Setup
 Cleaning and proper setup
Preparing to Etch
 Adjustment for varying granite and photo/input quality
 Leveling and positioning
Etching
Re-Etching
Color Application
12:00 – 1:30 Break for Lunch
1:30 – 3:30
Questions & answers
Personal demonstrations
If you missed laser Boot Camp and would like more information on laser or stencil systems please contact Ron Clamp at rclamp1@pbtcomm.net or 803-894-4807.


Laser Systems
Click image or click here to watch laser video.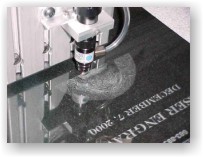 We offer a variety of machines with photos as well as retail monument brochures and catalogs. Systems import a variety of photo formats, and four models are available with a Y range up to 48" and a X range from 48" - 144". Processing speed is 3 square inches per minute and 150 DPI - 300 DPI resolution. The laser itself is a class IV laser and comes with 2 Mb RAM expandable to 8 Mb. Systems start at $39,975. For information on financing, shipping, and training, please email or call us today.
Please email d-mart@designmart.com or call 800-736-7455 for more information.

Highlights from Monument Boot Camp
hosted by Design Mart & Hyatt's Graphics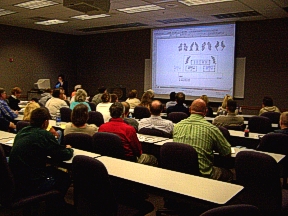 Boot Camp returned to Elberton, Georgia, after being held at Niagara Falls. This Boot Camp featured two sessions with 74 participants representing 41 companies from 17 states.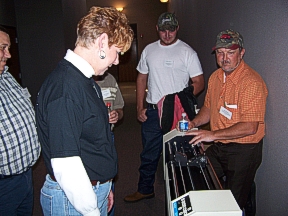 The two-day event, hosted by Design Mart and Hyatt's Graphics, included Friday's instructional sessions on Gerber's Omega application with Design Mart monument designs and fonts, and Saturday's sandblast class and quarry tours. Elaine Andrews, of Design Mart, led the Basic Course that covered essential monument design techniques using Gerber's Omega, while Charles Owens, of Gerber Scientific, led the advanced hands-on course highlighting some of Omega's new features. Mike Fernandez, of Design Mart, also demonstrated the new Color Kit II for adding color to drawings created in Gerber - as well as the new, user-friendly, Monument Designer point-of-sale software.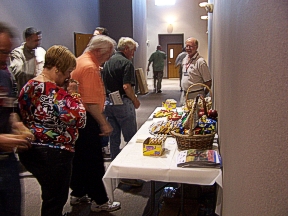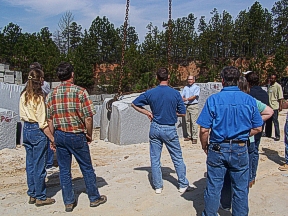 Miles Supply, of Elberton, sponsored a break area with refreshments during Friday's instructional seminars. Allen Datagraph and Gerber plotters were on display, and special offers from Gerber included upgrades to Omega with an additional free Work Station version of Omega. Saturday, Ronnie Brown, of Miles Supply, led tours of a local quarry. Saturday morning also included a sandblast class, conducted by Ron Clamp and hosted by Dixie Granite. Participants were able to see how the work done during the Friday classes could be applied to the stencil and stone.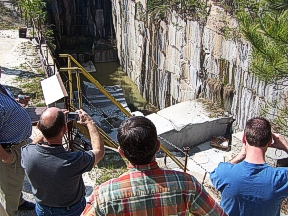 Friday night, many of the participants dined in historic downtown Elberton and attended a free movie at the Elbert Theatre.
Response to the training facilities, course content, and tours was overwhelmingly positive, and we are looking forward to more Boot Camps in the future. If you are interested in future events, please email or call Design Mart. We'll be glad to place you on our snail-mail and e-mail lists.

Gerber Omega Tutorial



If you missed Boot Camp you may find our Gerber Omega Tutorial helpful. Design Mart's Gerber Omega Tutorial covers many of the same topics explored in our Gerber Boot Camp. This 60+ page Word(TM) Document is fully illustrated with screen captures to show users exactly where tools are located and how monument designs can be created and changed. Topics covered in the Tutorial include:
Getting Started
Locating and opening Gerber Omega Composer
Exploring Composer Toolbars
Setting up tools in your workspace
Learning how to use drawing tools
Discovering polygon, radius and contour features
Editing Designs
Opening a monument
Deleting carvings
Adding carvings
Rotating carvings
Adding a border/polished margin
Combining the margin/border with a carving
Cutting lines
Adding inscription panels
Aligning inscription panels using guidelines and other tools
Lettering Panels
Adding the family name
Kerning/spacing the family name
Aligning the family name
Adding individual names and dates
Aligning and spacing individual names and dates
Fitting text to a curved path
Using Special Text & Text Effects
Enveloping, waving and other text effects
Creating Blank Monument Shapes
Creating serpentine and oval top dies
Scanning & Converting
Working with hand-drawn designs in Gerber's Omega
Click here to visit the Price & Order page, or call (800) 736-7455 to order or ask questions.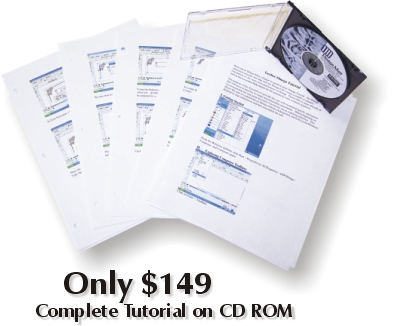 For additional information on our Gerber Omega Tutorial, technical support, or Gerber systems, please call our studio toll-free at 800-736-7455.

Boot Camp Training on Gerber Omega(TM)

Design Mart's Gerber Omega Boot Camp was held at the Convention Center Niagara Falls. Instructional classes on Gerber Omega, taught by Elaine Andrews, were full again this year.
The plotter display by Allen Datagraph and equipment display by Miles Supply were also well attended. As always, attendees reported that they learned new short cuts, helpful tips, and were able to find new ways to be more productive.
Attendees also participated in sandblast classes Saturday as well as a tour of Frank Lloyd Wright's Blue Sky Mausoleum at Buffalo's Forest Lawn Cemetery Sunday.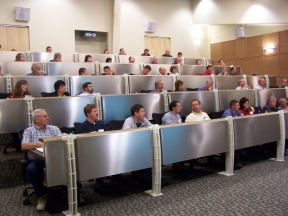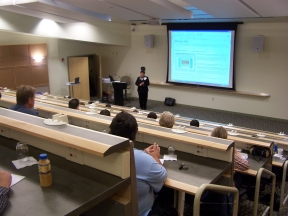 Basic Boot Camp


Gerber Omega Software

Design Mart's studio uses a number of solutions for point-of-sale and manufacturing/sandblasting. We currently offer two types of new plotters: Gerber's GS750 and Allen Datagraph's 536.

Gerber's Omega program allows the user to open, resize, reconfigure, letter, print and cut monument designs. Omega lists for $2,295.00 plus shipping.  However a bundled price of $995 may be available when purchasing a plotter at the same time as Omega.  Monument designs, carvings and fonts are sold separately, or they may be purchased in an introductory package with Omega.
To confirm system requirements please visit http://www.gspinc.com .

HYATT'S Graphics Starter Package $2,990.00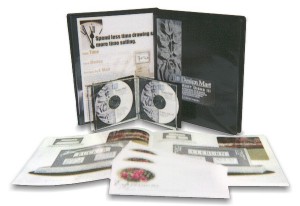 For those who are purchasing plotter systems, and D-Mart packages through HYATT'S we offer a Starter Package that includes the following:
* D-Mart Disks III ($499.00) design components & design index/notebook
* Precious Memories ($499.00) design series (click here and scroll down alphabetically to Precious Memories) & Precious Memories sales catalog. Any other D-Mart design series may be substituted for Precious Memories. The package pictured above features Seasons Cherished and Expressions of Love.
(Any design series may be substituted for Precious Memories.)
* D-Mart Monument Fonts for Gerber ($816.75) including: Classic Roman, Modified Roman Outline, Old English,
Uncial Gothic, Condensed Modified Roman, Modified Roman, Vermarco, Script, Government/Veteran Marker, Hebrew, and Russian. Visit our Software page and scroll down to the Gerber fonts.
* Miscellaneous Artwork ($1995.00) including Angels, Animals, Books, Borders, Buildings, Crosses, Emblems, Faces, Floral, Fun, Hands, Memorials, Music, Other Art, Panels, People, Roses, Scenes, Shapes, Sports, Vehicles/Transportation. Includes helpful index/notebook.
Gerber Omega lists for $2,295.  Omega plus the retail prices for all DMart software included in this introductory package has a retail price of $6,104.75 This is a savings of $3,114.75 off list prices.

Omega Upgrade
Call for current prices. (Prices do not include shipping and handling or training.)

New Allen Datagraph

Allen's Model 536 is an industry exclusive, providing both sprocket and friction drive material handling. Its sprocket drive system is engineered specifically to meet the precision tracking demands of users processing sandblast stencil. Stencil cut quality is assured through its unique "tangential emulation" allowing the 536 to cut perfectly square corners in rubber stencil. The 536 comes equipped with Allen's exclusive Gold Touch II cutting head, which has an unbelievable 100 steps of digitally controlled force. Gold Touch force selections are adjustable from 5 grams up to 550 grams, the most versatile in the industry! You not only get superb sprocket capability that adjusts from 15 inches up to 36 inches, but you also have the versatility of friction feeding material of all types, from 5 inches up to 36 inches wide. There's no compromise with the 536's full function control panel, either. All cutting parameters are easily set up using a simple 2 to 3 key sequence. The industry's best pouncing is also standard on the 536, with 100 selections for both hole size and spacing, another Allen exclusive! The Model 536 delivers precision, reliability and high performance…whatever the application. Price $8,795. (Does not include sales tax, setup, training or shipping and handling.)

Gerber(TM) Replacement 60 Degree Knife Blades - P37311B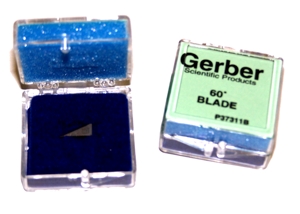 We offer genuine Gerber(TM) replacement blades. The 60 degree blades are recommended for cutting sandblast stencil since they have a sharper angle for less resistance a tight turn. $30.00 each plus shipping and handling. These are usually in stock, but please email d-mart@designmart.com or call 800 736 7455 to check availability or order.

Used Gerber GS750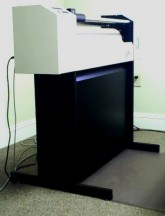 At times we have used equipment for sale.  Please contact us for information on what we currently have available.  Also, if we know of anyone who has a used equipment for sale we'll be glad to put you in touch with them.  Used GS750s usually can range from $8,000 and higher.  Be sure to ask about sales tax - if applicable, software (such as Gerber Omega, setup, training or shipping and handling.  These costs aren't usually included in the price.

NEW Gerber GS750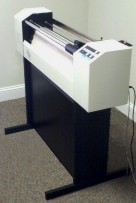 New Gerber GS750 plotters are available for $13,995.00. (Does not include sales tax - if applicable, setup, software such as Gerber Omega, training, or shipping and handling.)

NEW Portable Allen 315 "Death Date" Plotter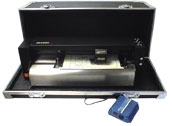 Portable, high-speed 15-inch sprocket-driven stencil cutter by Allen Datagraph, for on-site final dates and monument designs. Includes a carry case, a cigarette lighter adapter cord for the cutter, and a spare 115 VAC outlet for a laptop charger. Cutter is attached to the base of the carry case and plugs into a vehicle cigarette lighter. The case also has a padded laptop computer storage area. $5,995.00


Design Mart and Hyatt's Graphics:
From the Winter 2004 issue of the Elberton Granite Association's Graniteer magazine: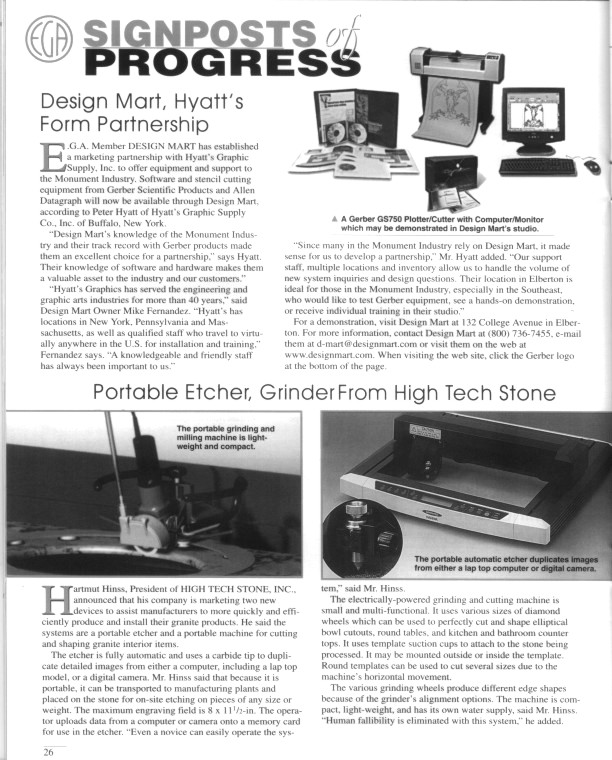 Gerber offers excellent nationwide technical support and field service. If you experience any problems with hardware or have software questions please call the numbers or use the links below.
Technical Support
Software Related Issues
860-644-6971 or gsptech@gspinc.com
Field Service
Equipment Related Issues
800-828-5406 or gspservice@gspinc.com
Customer Service
800-222-SIGN (7446) or cservice@gspinc.com
FastFacts
Fax-on-demand service available 24 hours a day - everyday - for troubleshooting, product information, etc.
Call 1-800-222-7446, select the FastFacts option, and follow directions.
GSP Website
Visit the website for product information, tradeshow schedules, FastFacts documents, Tip & Tricks, etc.
www.gspinc.com